Jozan (YAMADA) Kiln Family
Jozan YAMADA I : Mr. Hamajiro YAMADA (1868-1942)
The real name is Hamajiro. He learned techniques of pottery making at the pottery workshop of Sosuke INA.
After that, he developed his techniques at Kintozan (factory of Mr. Hoju KOIE) for several years, then he
started to make works by his own studio. Since then, he had been devoting himself to maketeapots by wheel.
He is well known as a master craftsman who made many decent Chinese-style taepots.
---
Jozan YAMADA II : Mr. Makoto YAMADA (1897-1961)
The real name is Makoto. He learned how to throw by wheel from his father and how to engrave from Mr. Kashu YOSHIWARA.
He learned painting from Mr. Kinji YOSHIDA (artist name : Ichi-ha) who was a principal of Tokoname Town Ceramic School
and he took his name of Ni-ha. From around Taisho period, he changed his name to "Ko-Jozan", after death of his father,
he renamed to "Jozan II" and he made many teapots by using his traditional skills. His works also had carvings which
were made by famous calligraphers or painters.
---
Jozan YAMADA III : Mr. Minoru YAMADA (1924-2005) : a Living National Treasure
His real name is Minoru YAMADA. Graduated from Tokoname Technical School, Ceramic course in 1941.
He learned pottery making from his grand father & father. He use his artist name "Ko-Jozan"
from around 1947. Won Grand Prix at the World Exposition 1958 in Brussels. He renamed to "Jozan III" in 1961.
Identified as an Aichi Prefecturalintangible cultural Asset in 1994. Decorated twice for teapot making.
And designated a Living National Treasure in 1998.
---
Jozan YAMADA IV : Mr. Emu YAMADA (1954-)


His real name is Emu YAMADA. Graduated from Tokoname High School Ceramic Course in 1973.
Then he entered Osaka Univ. of Arts (drop out). As he didn't interested in modern arts at Univ. and
thought the technical level in Univ. was lower than his family. He cooporated to make a clibming
kiln with his father (Jozan III) and stared to make vases, table wares and teapots.
He changed his name Emu to Jozan IV in 2006.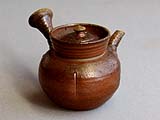 ---
Sou YAMADA : Mr. Sou YAMADA (1979-)


Graduated from Tokoname Ceramic Art Institute in 2002 and move to Tajimi city and started pottry making at Studio Mavo.
Return to Tokoname and work under his grand father and father in 2004. First Solo Exhibition in 2005.
---
---
Apprentices (family)
Yoshiaki SHIBATA (1946-), left-front
Fugetsu MURAKOSHI (1950-), right-back
Hiroshi MIZUNO (1950-), left-back
Mamoru IKAI (1951-), right-front
Yamahichi WATANABE (1953-), center-front